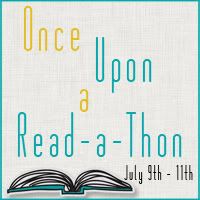 I have signed up for another Read-a-Thon, this one last a whole week which should give me plenty of time to read and blog hop.
I am going to take it easy this time and read lighter books. No literary fiction for me this week. In fact I decided it's the prefect time to finish one of the series that I have started.
Book List:
The Vampire Huntress Series by L.A. Banks

The Wicked (Book #8)
The Cursed (Book #9)
The Darkness (Book #10)
The Shadows (Book #11)
The Thirteenth (Book #12)

The Upper Room by Mary Monroe (book club read)
Reading Plans:
In the past I have learned that reading "ligther" books makes for a much more successful Read-a-Thon. So, as I stated before no literary fiction this time around.
plan to read at least 35 percent of the book each night, which means I should finish a book in 3 days. Normally I strive for 20 percent of a book each night, which gives me 5 days to finish./li>
Saturday I probably will not get much reading done, since I have a book club meeting and other things to do that day.
Sunday - is all about reading. I will try to plow through as many books as possible.
Are you doing this Read-a-Thon?